Trashed As Is Auckland's Only Art Exhibition Made Entirely from our own Rubbish! In April and May, 6 talented artists have been spending their time at the Tipping Point, scavenging for materials to use for their artistic creations. The artists were tasked with making art that challenges our perceptions of what defines waste with the aim of having Aucklander's think differently about the materials they purchase and eventually throw away. Come see what they have created at the first Inaugural Trashed As Art Exhibition.
Art Exhibition Details
All ages are welcome, this Exhibition is Free!!
When: June 15 & 16, 10am-4pm
Where: Corban Estate Arts Centre, the Barrel Store
2 Mount Lebanon Ln, Henderson, Auckland
Free Upcycling Workshops with Andrew Hall begins at 11am on Saturday and Sunday. No skills or materials required, first-come, first-serve.
All artwork will be available for sale at the Exhibition
About the Artists:
Andrew Hall: Andrew is a born-upcycler. By the time we was 4 years old, he was using acorns, potatoes, match sticks or whatever he could find for building his sculptures. Andrew's work has been shown at many galleries including Corban's and won awards at the Lopdel gallery and Waitakere Licensing Trust for his upcycled artwork.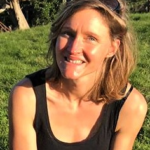 Emma Nelson: I love giving meaning, use or beauty to things that are otherwise discarded or overlooked. Influenced by my father's work with landfills I have loved trash from an early age. While working in the areas of education, mental health and conservation; my passion for creating has served as a vehicle for the recovery and maintenance of my own well-being.  Art helps me cope with the overwhelming feelings I have – particularly around concern for our ecology. Trashed As is an opportunity to reflect on what we discard and to think about what elements of our well-being are inadvertently discarded in the fallout.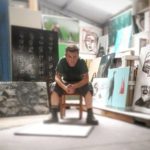 Greg Page: Greg's work has been described as darkly humorous, violent and energetic with a sense of movement.  
He has been making art alongside a career in film and TV and claims painting helps him stay sane.  He works from his 'shedio' in Henderson , predominantly using  unwanted house paints and oil crayons.
Java Bentley: As an installation artist, my artistic practice is a response to everyday materials and how their materiality connects to space, architecture and memory. I am interested in objects that can be activated in multiple spheres of interpretation and making large scale art that encompasses me but is made with my hands. Having had experience with the themes of the handmade, craft and materialism, I am particularly interested in soft sculpture, painting and collective group practices. Recycled materials, repurposed objects and available materials in excess, inspire my art practice and as an artist I am constantly hoarding objects and their memories.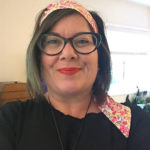 Zoe Nash: Zoë Nash is a diverse visual artist working across a range of creative disciplines. She has a Master of Fine Arts degree from Whitecliffe (2002) as well as a BA (University of Auckland) and adult teaching qualifications. Zoë's abstract works explore themes of repetitive process, experience and transformation, and often use narrative devices to trigger personal connections. Her work is often built via the accumulation of basic repeated shapes and forms, visually disrupting the relationship between figure and ground, creating immersive and engaging experiences for her viewers.
Ashlee Tawhiti:
Ashlee is a Contemporary Maori Visual Artist Based In Waitakere, Auckland. Within her studio practice she entwines and reflects on notions of the past and present through a bicultural lens. Her works are framed within the tension of historical anthropological contexts and contemporary personal experiences. Ashlee is also an arts educator Swanson School and Corban's Art Estate.